Announcing the Release of The Shadow Queen, the latest novel from Anne O'Brien
4th May, 2017 
Available for pr-order now:
https://www.amazon.co.uk/Shadow-Queen-Anne-OBrien-ebook/dp/B01KTKDNPO/ref=sr_1_1?s=books&ie=UTF8&qid=1493204693&sr=1-1&keywords=The+Shadow+Queen+Anne+O%27Brien 
'An excellent historical novelist' Sunday Express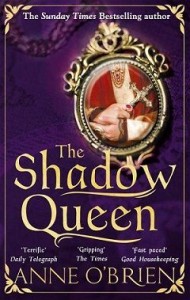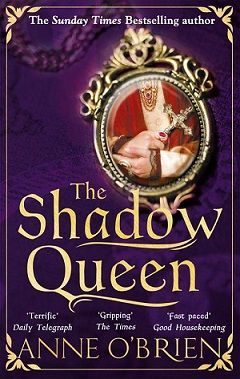 Her reputation is one of beauty, scandal and rumour.
Her royal blood makes her a desirable bride.
Her ambition and passion make her a threat.
She is mother to the child-king Richard II.
She is the power behind the throne.
She is Joan of Kent – the Shadow Queen
A tale of treachery, power-hungry families and legal subterfuges, in which Joan, a woman of considerable charm and beauty, played a central role at the heart of the Plantagenet Court.
'What would enhance the pattern of my life further? One word slid into my
mind. A seductive word. A dangerous word, perhaps, for a woman. Power.'
A dramatic story of love and loyalty and of the cost of personal ambition.
'O'Brien cleverly intertwines the personal and political in this enjoyable, gripping tale'
'Anne O'Brien is a terrific storyteller'
'There are historical novels and then there are the works of Anne O'Brien – and this is another hit'
'Historical fiction at its best'
'Brimming with history, passion and drama'
Anne O'Brien was born in West  Yorkshire. After gaining a BA Honours degree in History at Manchester University and a Master's in Education at Hull, she lived in East Yorkshire for many years as a teacher of history.
She now lives with her husband in an eighteenth-century timber-framed cottage in the depths of the Welsh Marches in Herefordshire, on the borders between England and Wales, where she writes historical novels.  The perfect place in which to bring medieval women back to life.
Visit Anne online at www.anneobrien.co.uk
Find Anne on Facebook  https://www.facebook.com/anneobrienbooks/
Follow her on Twitter @anne_obrien
Enjoy her inspiration for her historical novels on Pinterest  https://uk.pinterest.com/thisisanneobrie/
Anne O'Brien is available for interview and speaking engagements.