Celebrating Joan of Kent as The Shadow Queen.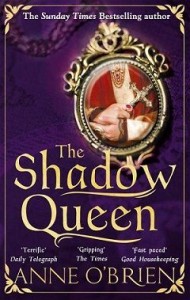 Ten Fascinating Facts:
1.Daughter of Edmund of Woodstock, Earl of Kent, son of Edward I by his second wife, Joan was first cousin to King Edward III. Her father was executed for treason, caught up in the removal of Edward II (his brother) from the throne, but Joan and her siblings were taken into Queen Philippa's household at Woodstock to be brought up with the royal children. Joan's mother was Margaret Wake, lady of Badenoch.  As a Plantagenet princess Joan would have been raised to know that she must marry well as part of royal alliance-making.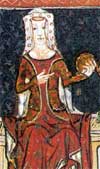 2.In Ghent, at the age of 12 Joan committed the unthinkable and married Sir Thomas Holland without permission or knowledge of family or anyone at the royal court. A marriage per verba de praesenti, it was clandestine, disapproved of, but in fact legal with witnesses and consummation. Immediately after the wedding Thomas left on campaign.  As a younger son of a not particularly wealthy family he needed to make his fortune in battle or on the tournament field.  Joan was left to face the fall-out alone.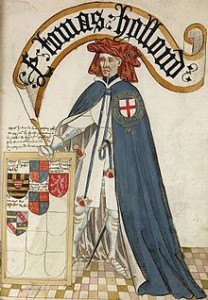 3.Within a year, Joan was married to William Montagu, heir to the Earl of Salisbury with parental and royal agreement, in a ceremony before the royal court. It was undoubtedly a bigamous marriage. What would happen when Thomas returned from campaigning abroad?  Why did Joan do it?  There is no evidence, only speculation.  Probably her mother hoped that Thomas Holland would be killed in Europe which would solve the problem beautifully.  What Joan thought, we do not know …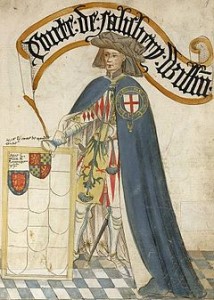 4.The only way to escape the second marriage and have the first one declared legal was through a papal judgement in a court at Avignon. The legal subterfuges resorted to by the combatants were astonishing. Nor did Thomas initially have the money to fund it.  For once there is much evidence of the legal wrangling on both sides of the case.  Were Joan and William destined to remain together?  Which husband would Joan prefer?
5.In spite of much Montagu double-dealing and Joan's semi-imprisonment to prevent her giving evidence before a papal court, Thomas Holland raised the money to take a case to Avignon and Joan ultimately returned to Thomas as his lawful wife. Together they had five children, four of whom lived to adulthood while Thomas made a name for himself in the service of Edward III as both soldier and diplomat. It was with Thomas at Stamford in Lincolnshire that Joan demanded that she be buried in her will, which would seem to be proof of her lasting love for him.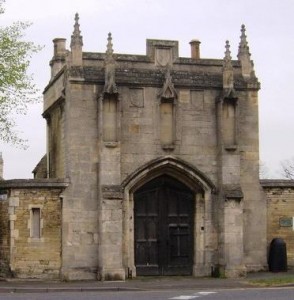 6.A handful of months after Thomas's death and burial, Joan married Edward of Woodstock, Prince of Wales in another marriage per verba de praesenti. What drove them to this? Why would they risk the scandal of such a marriage that the Church would condemn, and particularly to the heir to the throne?  Perhaps it was the knowledge that it would not be a particularly popular marriage with King Edward III who would have wanted a more prestigious bride than Joan, and one without the scandal attached to her name.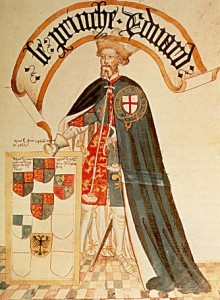 7.It took a papal dispensation, much money and a promise to found two chantry chapels in Canterbury Cathedral for Joan and Edward to straighten out the mess of this first marriage. Eventually it was complete and they were married again, this time with all the legal trappings at Windsor, in October 1360. The tradition that King Edward and Queen Philippa disapproved seems to be without evidence.  They attended the marriage and visited the happy couple at Berkhamsted where they celebrated Christmas.
8.For the first years of their married life, as Prince and Princess of Aquitaine, Joan and Edward lived in Aquitaine and Gascony, a peripatetic lifestyle as they travelled around the major towns and cities to make an impression on the local nobility, but mostly based in Bordeaux. It was not a happy time. The Aquitainian nobility were in opposition, stirred up by the King of France who had his own eye on Aquitaine.  Edward's campaign on behalf of Pedro of Castile achieved the great victory at Najera but drained their money.  Their eldest son Edward of Angouleme died, and the Prince's health also began to break down.  Eventually they returned to England.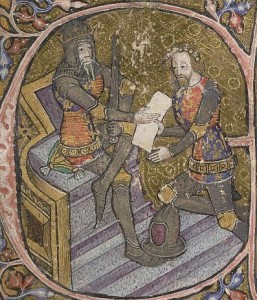 9.Prince Edward died in June 1376 after a long illness. King Edward III was also in severe decline, leaving Joan to consider the future of the next king, Richard II, who would inherit the throne as a mere child. At the same time the paths of Joan and Alice Perrers would cross frequently at Court.  What was their relationship?  And how close was the political alliance between Joan of John of Gaunt?  Oh, to be a fly on the wall.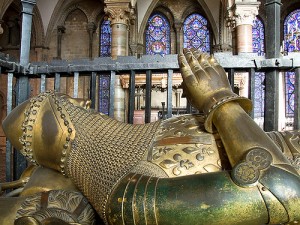 10.Joan was not appointed to the Royal Council and had no official status in the new reign but had considerable influence in the early years as King's Mother. She was very supportive of Richard's first marriage with Anne of Bohemia even though her father's pro French policies were not at first acceptable to England. When Charles IV, Holy Roman Emperor, changed his alliances, the marriage was assured.  For her final years, Joan retired to Wallingford castle, but still found time and energy to visit the royal court.
Do leave a comment.  I always enjoy hearing from lovers of historical fiction.