This Giveaway is now closed.  Thank you to all who took part.
Hurrah!
Publication Day for  A Tapestry of Treason: 22nd August
Leave a comment at the end of this post.
Good Luck!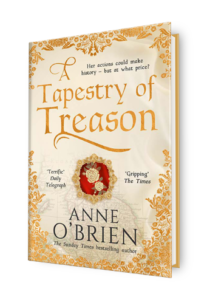 Ten Things You Should Know About Constance of York
There is so little detail on the life of Constance of York.  What there is encouraged me to write a novel about her.  I cannot resist a medieval woman with conflciting loyalties and more than a hint of scandal.  So here is what we do know.
1. It's all in the royal family! Constance  was the granddaughter of King Edward III, daughter of Edmund of Langley, Duke of York, and Isabella, Princess of Castile.  Thus she was cousin to both Richard II and Henry IV.  Nothing like a family dispute to engage a reader's interest!
2. All is drenched in rumour and scandal. Constance had two brothers, Edward of York, a man of dubious loyalties, and Richard of Cambridge whose legitimate birth was suspect and was later executed for treason.  Rumour said that his father was John Holland, Duke of Exeter, with whom Isabella, Castilian Duchess of York, had an affair.   A scandalous family, all in all.
3. Who can you trust? Constance was wife of Thomas, Lord Despenser, Earl of Gloucester. Both were strong supporters of King Richard II until the political climate changed and it would be better for their health to support King Henry IV. Some smart side-swapping became essential after Despenser (and Constance) spent a few weeks locked up in the Tower of London.
4. The wife also pays the price of insurrection!  Constance was widowed in 1400 when Lord Despenser became involved in the Revolt of the Earls against King Henry IV and was done to death by the mob in Bristol.  Constance paid for this overt treason.  She was dispossessed of her title, the Despenser lands and wealth, and her dower.
5. More scandal! Constance engaged in a love affair with Edmund Holland, Earl of Kent, courtier and soldier, a man much younger than she was. They had an illegitimate daughter Alianore.
6. Treachery! Constance took a very personal role in the conspiracy in 1405 to release young Edmund Mortimer, Earl of March, from Windsor Castle, where he were kept in custody by the King, and deliver him into the hands of Owain Glyn Dwr and the Mortimers in their insurrection to make him the next king of England.  Constance arranged for their flight.
7. Oh, to be a medieval fly on the wall. Constance was called to answer for her sins before the King's Council when she was arrested in full flight near Cheltenham with the Mortimer heir. Constance blamed her brother York and challenged him to a duel.  Would anyone fight for her?
8. Guilty! Constance was guilty, caught in the act. Would her cousin the King demand her head as a traitor?  Treachery becomes personal when it is cousin v. cousin.  Henry imprisoned her in Kenilworth Castle.  Henry's patience had run thin.  He imprisoned York as well in Pevensey Castle.
9. Abandoned and rejected! The lure of a large dowry! The Earl of Kent, Constance's lover, married the Madonna Lucia Visconti, whatever he might have promised to Constance.  Constance attended the marriage at the church door of St Mary Overie in Southwark and did not challenge the marriage.
10. What happens next? A quiet end to an adventurous life. Constance was sent off to her estates in the Welsh Marches to keep an eye on the invading Welsh.  She retired from public life and scandal, and died in Reading or at least was  buried there before the altar.  Constance never married again.
Did Constance ever regret the decisions she made?  Perhaps she did.
Leave a comment below if you would like the chance of winning a copy of A Tapestry of Treason.