To Celebrate the Paperback Publication of The Queen's Rival
15th April 2021.
Two Signed Copies of The Queen's Rival
A Pious Life
What did Cecily Neville do when she retired from the political world?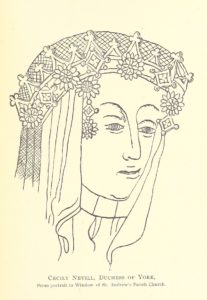 At her manor of Berkhamsted, in the later years of her widowhood, Cecily adopted a sedentary and pious lifestyle worthy of note. In this she mirrored the advice of Christine de Pisan: what was appropriate for the life of a 'wise princess'.  This came particularly in the years after the death of her son Richard III on the battlefield at Bosworth, when Henry VII was King of England and Cecily's grand-daughter Elizabeth became his queen consort, uniting the red and white roses of Lancaster and York.  At the time of Richard's death Cecily was 78 years old.
Her manner of living at Berkhamsted contrasted strongly with the political involvement of her younger days.
This was the order of Cecily's day.  Every day followed the same pattern.
She woke and rose from her bed at seven o'clock.
Her chaplain was immediately ready to say the Matins of the day and Matins of Our Lady with her in her private chapel.
A low Mass was then said in her chamber before she broke her fast.
Breakfast was eaten by the whole household, together.  This included all her servants, gentlewomen and any visitors.
Then to Divine Service in the chapel and two further low Masses.  Chapel furnishings and priestly vestments, as listed in her will, were meant to impress, also the music, including the instalment of an organ.  Something of the old Cecily here perhaps.  Her objective might be piety but not holy poverty.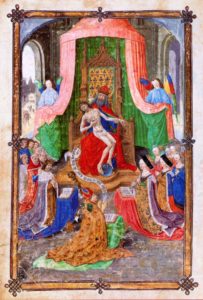 If any time remained in the morning between religious observance and dinner, it was for Cecily to choose how to use it.  It is not recorded what she did.
Dinner was at 11 o'clock, or on Friday and Saturday at 12 because these were designated as 'fast' days.  Wednesday could also be kept as a fast day but Cecily did not.  Fish was served on fast days as well as butter and eggs, but no meat.  A reading was given during the meal to edify the diners.  It was not a time for idle chatter.
After dinner Cecily apportioned an hour during which she gave audience to any who needed to speak to her: to visitors, tenants, and petitioners who might seek her help or advice.  It was also a time in which she met with the senior members of her household.
This being complete to her satisfaction, Cecily allowed herself all of 15 minutes for an afternoon nap.
From that time until Evensong Cecily indulged in private prayer and religious observance, perhaps with the use of her substantial library of religious books.  Perhaps she recalled the days of her marriage to Richard, Duke of York, when she would have had hopes of becoming Queen of England.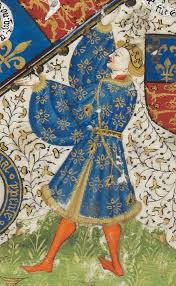 As Evensong approached, Cecily drank a cup of wine or ale and her chaplain would say two short evensongs with her privately while the bell called the household to a full sung Evensong in the chapel.
Supper was taken at four or five, an informal meal where talking was allowed although Cecily often repeated what she recalled of the reading they had heard at dinner, for the benefit of those who had not been present.  This also seems very typical of the old Cecily.  I am sure that it was enjoyed by everyone!
After supper there was a time of leisure with her gentlewomen, to be spent in 'honest mirth' until seven o clock when Cecily took a cup of wine and retired to her chamber for the night.
Final prayers for the day were said and then Cecily had taken to her bed by 8 o'clock.
What a rigid lifestyle had been adopted by this complex woman.
Did it have a political purpose?  To impress the gossips with the Yorkist matriarch's piety, amidst the  scandal and bloodshed of these latter days?
Or was it a deliberate withdrawal from the horror of the death of her son at Bosworth?
We will never know.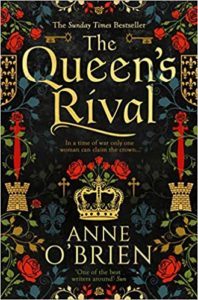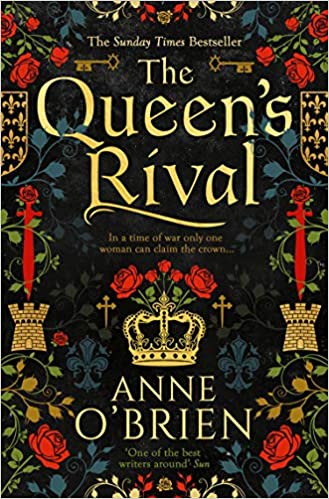 I am giving away two signed copies of The Queen's Rival to mark the paperback publication on 15th April 2021.  if you would like to be included in the random selection, please leave a comment below. 
Good Fortune and Happy Reading.