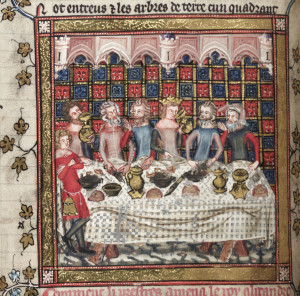 This Giveaway is now closed.  Thank you to all who took part.
Season's Greetings to all my readers, and those who have not yet read my books but might discover them in 2019.  May you have a good Christmas surrounded by friends and family, and with plenty of feasting and drinking (but all in medieval moderation, of course!) as in the scene above.
If at some point you need a quiet moment, alone with a book …
I am giving away three signed copies, selected from any of the six books below from my back list.  They don't all have the new covers, but the contents and the medieval characters are the same!
I have six that I can offer.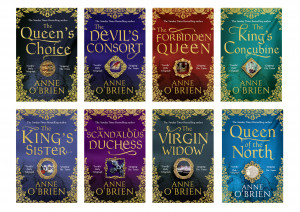 If you are interested in a particular reign …
The first four all take place during the reigns of Edward III and Richard II with some characters appearing in more than one novel:
The King's Concubine: the infamous royal mistress Alice Perrers and her highly political relationship with King Edward III.  A woman of notoriety but remarkable business acumen, and one I particularly enjoy.
The Scandalous Duchess: who needs no introduction.  The scandalous tale of Katherine Swynford and John of Gaunt, even more scandalous as his wife than as his mistress.  Princes did not marry their mistresses!
The Shadow Queen: Joan, the Fair Maid of Kent: medieval scandal par excellence: three marriages, one bigamous, and a love of power which made her the wife of the Black Prince.  Countess of Kent, Princess of Wales, King's Mother.  Joan was a formidable friend and adversary.
The King's Sister: Elizabeth of Lancaster, daughter of John of Gaunt and Blanche of Lancaster. Another royal who chose not to follow family dictates when it came to chosing a husband.  Her marriage to John Holland could bring nothing but tragedy.
And then these two follow on in chronological order:
The Queen's Choice: Joanna of Navarre and Henry IV.  A difficult second marriage for both of them, shackled by political pressures, but bringing ultimate although short-loved happiness.  And then there's the taint of witchcraft which kept Joanna incarcerated for more than two years …
The Forbidden Queen: Katherine de Valois, a royal pawn in her marriage to King Henry V.  But then there was Owen Tudor whose love forced Katherine to resist the political chains on her freedom.  A coming of age tale, a tale of love and courage and tragedy.
How to take part?  Easy.  Leave a seasonal comment below and the title of the book you would choose if you won.  I will get back to you and post them before the Christmas rush.
Thank you for participating in the seasonal jollity.
A Happy Christmas to All.