Exciting News from my publishers HQ.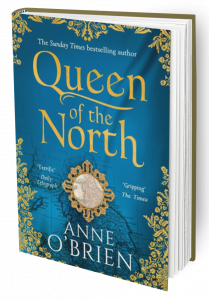 With less than a week to go before the publication of Queen of the North in hardback on 31st of May 2018, I have some exciting news to share. My publisher, HQ, have partnered with English Heritage to offer a joint one year membership to one lucky winner – all you have to do is head to
http://books.harpercollins.co.uk/campaigns/queenofthenorth/ to enter.
Have you pre-ordered the book? If you have pre-ordered in hardback, or ebook, simply add your order reference number in the form, along with your name and email address. One lucky winner will be chosen on the 25th of June!
Queen of the North follows the exciting history of Elizabeth Mortimer and her husband Hotspur. Who should be King of England?  To those around her she was a loyal subject. In her heart she was a traitor.
English Heritage care for over 400 properties across England, including Warkworth castle, home to the Percy family. There is no better place to delve into the story of Queen of the North then within these historic walls.
You have until the 24th of June to enter this competition so please do have a look at the website, and good luck. I look forward to sharing Elizabeth's story with you on the 31st of May.