Celebration time.
This Giveaway is now closed.  Thank you to all who visited the page and took part.  and particularly many thanks for all the kind words and best wishes.
I'll be contacting the winners soon.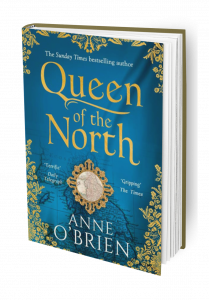 Queen of the North is now two months old and so I decided it deserved a giveaway.  Two signed hard backed copies are on offer.
I know that many of my readers have read all my medieval historical novels.  Some have picked up those written about the reigns or particular characters that interest them.
Here they all are, in chronological order.  There is no real reason to read them chronologically, since they are all stand-alone:
Devil's Consort: Eleanor of Aquitaine: the early years
The Uncrowned Queen: short story and ebook only: Philippa of Hainault and Edward III
The next four all take place during the same time scale, in the reigns of Edward III and Richard II with some historical characters appearing in more than one novel:
The King's Concubine: Alice Perrers and Edward III
The Scandalous Duchess: Katherine Swynford and John of Gaunt
The Shadow Queen: Joan, the Fair Maid of Kent
The King's Sister: Elizabeth of Lancaster, daughter of John of Gaunt and Blanche of Lancaster
And then the Chronology continues:
The Queen's Choice: Joanna of Navarre and Henry IV
Queen of the North: Elizabeth Mortimer and Sir Henry Percy (Hotspur)
The Forbidden Queen: Katherine de Valois and her marriages to Henry V and Owen Tudor.
Virgin Widow: Anne Neville, wife of Richard of Gloucester
And so back to my giveaway!
For a chance to win a signed copy of Queen of the North, leave a comment below.
I will contact the two winners which will be chosen by random selection.
This giveaway will run for a week until Tuesday 31st July.
Good fortune and happy summer reading!