A Seasonal Giveaway! 
Two signed copies of A Tapestry of Treason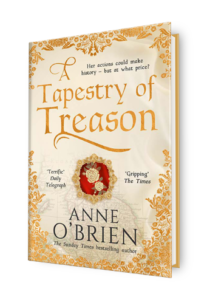 1399: Constance of York, Lady Despenser, proves herself more than a mere observer in the devious intrigues of her magnificently dysfunctional family, The House of York.
Surrounded by power-hungry men, including her aggressively self-centred husband Thomas and ruthless siblings Edward and Richard, Constance places herself at the heart of two treasonous plots against King Henry IV.  Will it be possible for this Plantagenet family to safeguard its own political power by restoring either King Richard II to the throne, or the precarious Mortimer claimant?
Although the execution of these conspiracies will place them all in jeopardy, Constance is not deterred, even when the cost of her ambition threatens to overwhelm her.  Even when it endangers her new-found happiness.
With treason, tragedy, heartbreak and betrayal, this is the story of a woman ahead of her time, fighting for herself and what she believes to be right in a world of men.
'Brimming with plots, politics, passion and perfidy, this is historical fiction at its best as O'Brien allows the determined, fearless and flawed Constance of York to finally step out of the shadows and into the light.'
Lancashire Evening Post
Two signed copies of A Tapestry of Treason are on offer.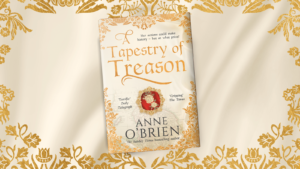 All you have to do to take part:
Leave a comment below to tell me this:
Which of my medieval novels have you enjoyed most?  Which medieval character has remained with you, even after you have put the book down?
Good fortune!
 I will send the 2 books out in November to the lucky winners – an early Christmas present for you or a loved one.
Warmest regards,
Anne