STOP PRESS
To be published on 22nd August 2019 in hardback:
A Tapestry of Treason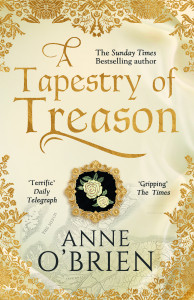 The dramatic but troubled story of Constance of York, Lady Despenser, and her Yorkist family.
Her actions could make history – but at what price?
1399: Constance of York, Lady Despenser, proves herself more than a mere observer in the devious intrigues of her magnificently dysfunctional family, The House of York.
Surrounded by power-hungry men, including her  aggressively self-centred husband Thomas and ruthless siblings Edward and Richard, Constance places herself at the heart of two treasonous plots against King Henry IV.  Will it be possible for this Plantagenet family to safeguard its own political power by restoring either King Richard II to the throne, or the precarious Mortimer claimant?
Although the execution of these conspiracies will place them all in jeopardy, Constance is not deterred, even when the cost of her ambition threatens to overwhelm her.  Even when it endangers her new-found happiness.
With treason, tragedy, heartbreak and betrayal, this is the story of a woman bound by the mores of the medieval Court of King Henry IV, fighting for herself and what she believes to be right in a world of men.
Coming soon!