Stop Press: Queen of the North
Queen of the North
Some exciting news for  2019.
My new novel Queen of the North will be released in paperback and ebook on 18th April 2019.
Sumptuous and evocative historical fiction from the Sunday Times Bestselling Author
1399
A year of great upheaval in England.
England's crown is under threat.
King Richard II's hold on power is undermined when exiled Henry, Duke of Lancaster, returns to reclaim his inheritance and ultimately the throne.
For Elizabeth Mortimer, one of the powerful Mortimer family of the Welsh Marches, the succession is clouded with doubt.  With King Richard dead in Pontefract Castle, there is only one rightful King by the law of inheritance – her eight-year-old nephew Edmund, Earl of March.
But many, including Elizabeth's husband, the mercurial Sir Henry Percy known as Hotspur, heir to the Earl of Northumberland, do not want another child-King.
Questioning her loyalty to the new King Henry IV, Elizabeth places herself in conflict with Hotspur and the powerful Percy family.  But to concede to Henry's claim to the throne challenges all her Mortimer principles.
Will Elizabeth be prepared to pay the cost of personal and family ambition?
This is one woman's quest to turn history on its head. 
A tale of love and loyalty, of tragedy and betrayal.  And of love.  A story of the battle for power in the north and in the Welsh Marches.  A story of great achievement and the doom of inevitable failure.
What a marvellous tale it has been for me to write.  The story of Elizabeth Mortimer and her husband Sir Henry (Hotspur) Percy.
Available for pre-order here:
https://www.amazon.co.uk/Queen-North-sumptuous-historical-bestselling/dp/0008225435/ref=tmm_pap_swatch_0?_encoding=UTF8&qid=&sr=
I love the cover!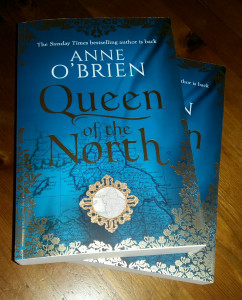 .