Anne was born in the West Riding of Yorkshire. After gaining a B.A. Honours degree in History at Manchester University, a PGCE at Leeds University and a Masters degree in education at Hull University, she lived in the East Riding as a teacher of history. Always a prolific reader, she enjoyed historical fiction and was encouraged to try her hand at writing. Success in short story competitions spurred her on.
Leaving teaching – but not her love of history – she wrote her first historical romance, a Regency, which was published in 2005. To date nine historical romances and a novella, ranging from medieval, through the Civil War and Restoration and back to Regency, have been published internationally.
Anne now lives with her husband in an eighteenth century timber-framed cottage in the depths of the Welsh Marches in Herefordshire, a wild, beautiful place on the borders between England and Wales, renowned for its black and white timbered houses, ruined castles and priories and magnificent churches. Steeped in history, famous people and bloody deeds as well as ghosts and folk lore, it has given her inspiration for her writing. Since living there she has become hooked on medieval history.
Sometimes she escapes from writing. She enjoys her garden, a large, rambling area where she grows vegetables and soft fruit as well as keeping control over herbaceous flower borders, a wild garden, a small orchard and a formal pond. With an interest in herbs and their uses, Anne has a herb patch constructed on the pattern of a Tudor knot garden and enjoys cooking with the proceeds. Gardening is a perfect time for her to mull over what she's been writing, as she wages war on the weeds.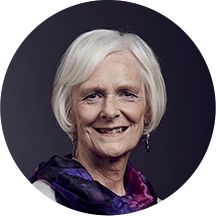 Read Anne's Blog