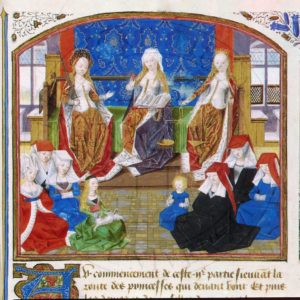 As would every other family of means in the 15th century, the Paston family celebrated Christmas.  The house would be decorated with greenery, gifts given at New Year, with singing, dancing, and traditional games.  In 1459 in the household of Margaret Paston and John I there were enough children to enjoy the traditional festivities.  The two eldest boys John II and III were perhaps too old for some of the junketing, being almost  adult at 17 and 15 years, but the two girls, Margery and Anne, were only 11 and 5.  The other boys Edmund and Walter were 9 and 3.  And then there was baby William less than a year old.
Festivity would be expected.
But 1459 was not to be a traditional Christmas for the family.  Their important benefactor Sir John Fastolf had died very recently at the beginning of November, leaving them a vast  inheritance, including the jewel in the crown, Caister Castle, but in a will that was sure to be challenged for its legality.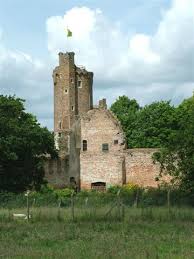 John Paston I spent Christmas in London engaged in legal affairs which left Margaret in Norwich to decide what must be done to celebrate Christmas.  Should it be celebrated at all?   How to do it in a time when the family was in mourning, when it was important to keep a discreet appearance in the town.  Margaret was clearly anxious that the Paston family should not attract criticism from its Norwich neighbours of good standing.
What was allowed for a family in mourning?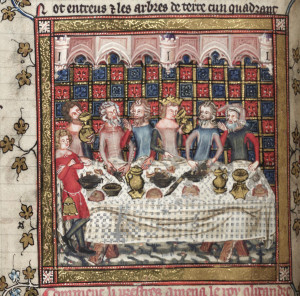 Margaret knew exactly what to do. First she sent her eldest son John II to make an enquiry from one of the distinguished local households, tapping into the experience of the elderly widow Lady Isabella Morley.  What sports and games did she allow in her household when her own husband had recently died?  Was there any celebration at all?  At the same time Margaret sent John III with a similar request to Lady Stapleton who verified Lady Morley's advice.
What a sad Christmas it would be for the young ones!
No mumming or play acting was acceptable.
No minstrels.
No harping or playing of the lute.
No singing and no loud games.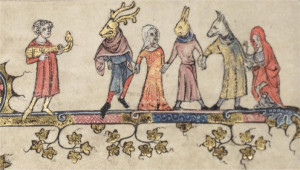 What was possible, if anything?
The noble Morley and Stapleton ladies had given permission for their households to take part in quiet board games such as 'tables', to play chess and cards, but nothing more.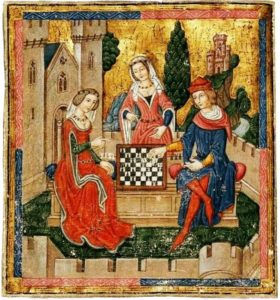 The young Pastons might anticipate the music and singing and boisterous games, but it was not to be.  Unless, of course, Margaret was prepared to make her own choices.  Did she perhaps allow some quiet celebration between her four walls, too quiet to arouse the awareness of the neighbours, but enough to please the children.  We simply do not know, but I like to think that Margaret would be compassionate to their youthful needs.
During these days, Margaret, forced to mark Christmas alone, clearly missed John.  This is what she wrote to him:
'I am sorry that you shall not be home for Christmas,' she wrote.  'I entreat you to come as soon as you may.  I shall consider myself half a widow because you are not at home.  May God protact you.  Written on Christmas Eve.
By your M.P.'
Enjoy more of Margaret and her family in A Marriage of Fortune, published 19th January 2023.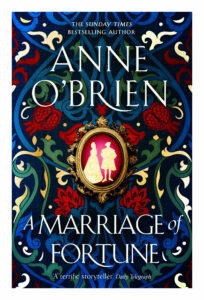 Meanwhile, in anticipation, I will give away 2 copies of The Royal Game, the first of the Paston novels, in a spirit of Christmas giving.
For a chance to win, leave a comment at the end of this Christmassy Post.