My Thoughts on Writing about Katherine de Valois, and how my novel developed to beome a novel of love and loss, fulfilment and tragedy.
My Thoughts on Writing about Katherine de Valois.
My previous novels – touching on the lives of Anne Neville, Eleanor of Aquitaine and Alice Perrers – have all included more than a pinch of background politics and national events.  It is something that I enjoy, working the 'history' into the lives of my protagonists.  And all three of these historical women were, to a greater or lesser extent, political animals.  Katherine de Valois did not fit easily into this past experience.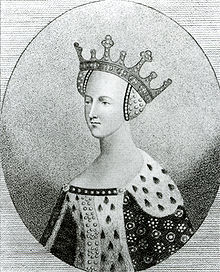 When I began to write about Katherine de Valois in the first person, I realised that if I wished to keep this format, this novel would of necessity have limitations on the content, outside the life of the heroine.  I had to accept what The Forbidden Queen could not be, and as I continued writing it became even clearer.  So this is what the novel is not:
–          It is not a novel about the Hundred Years War.
–          It is not a political comment on the difficulties faced by a country under the minority rule of Henry VI.
–          It is not a novel explaining the growth of powerful families and the outbreak of the Wars of the Roses.
–          It is not a discussion of the problems of the Valois under Charles VI, with the resurgence of Charles VII under Joan of Arc and the ultimate defeat of the English.
All these are aspects of quite a different novel.  It would be unrealistic to see them through Katherine's eyes, because Katherine, quite frankly, was untouched by most if not all of these issues.  If I wrote a political novel, Katherine would be a mere on-looker for most of it – and not even that, since she was kept secluded from much that was going on in England both before and after Henry's death.  This would not make an appealing novel.  Katherine would spend most of her time explaining what she had heard and what she had been told by someone else …
Not good!
This is a scene of the magnificant marriage of Henry and Katherine at Troyes in France in 1420, undoubtedly the highlight of Katherine's political career.  And one in which, like many other royal wives, she merely played the required role.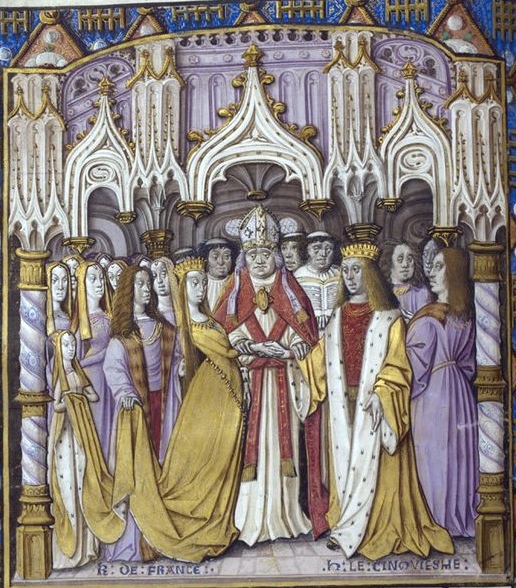 So why was she so uninvolved?
Katherine's lifestyle was narrow and protected until the 1430s.  Her interests as far as we know were domestic.  Appallingly neglected as a child, she received little education in the convent at Poissy, and played the role of most princesses in the marriage stakes, to cement an alliance with a potentially hostile country – England.  Katherine had of course no influence in this.  We do not even know what she thought about it – not that it would have made any difference to the marriage.  She is often portrayed as a beautiful young woman who was not very bright, which might simply indicate that she played no role other than a ceremonial one.  She certainly does not seem to have had any political interest or knowledge of the country of which she would be Queen.
This, of course, is Henry V.  I imagine Katherine was both seduced and dominated by him.  He was older – 33 to her 19 – more experienced, confident, with the reputation as an English hero who had created the bloodbath at Agincourt, and was quite focused on his desire to take the French throne.   Katherine did not stand a chance of winning his attention other than to conceive a child.  He had already offered marriage to some of her sisters. By 1420 Katherine was the only one left unwed or not a nun.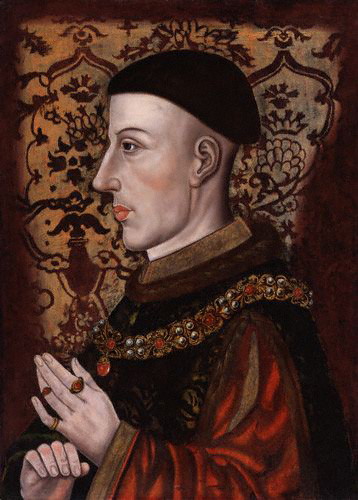 Should we have expected more of this young woman?  It is true that some royal wives developed political acumen as they matured and took on a role in government either at the side of their husband or independently.  They supported causes, they promoted marriage alliances, they received petitioners and spoke for their interests.  Their assigned role, to support and bolster royal power, gave a pattern to their days and a demand on their time.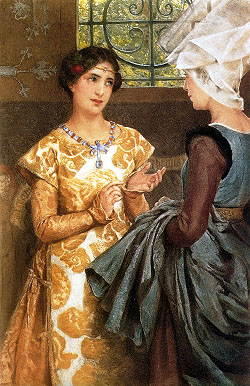 This is not what Katherine de Valois did.
Here she is in the portrait by Alma Tadema from his series on Shakespearian heroines.  He has given her much charm but she does not look a strong character.  In effect, Katherine had the title, wore the robes of state and stood at her young son's side as Queen Mother when he appeared infrequently in public, but that was the limit of her involvement.  Nothing else was expected of her, and she appears to have little interest in carving out a role for herself.  When she was able to take the initiative in the 1430s to live as she chose, the choice she made was to retire from public life, to live quietly away from the public eye.  When politics encroached on her life, and stopped any possibility of a marriage to Edmund Beaufort, she became a victim, not a protagonist.
This likeness of Katherine taken from her features in death and used at her funeral (it can be seen in the museum at Westminster Abbey) sums it up for me.  She is vulnerable and introspective with her heavy lidded eyes and elongated features.  But none the less she was capable of inspiring love in Owen Tudor.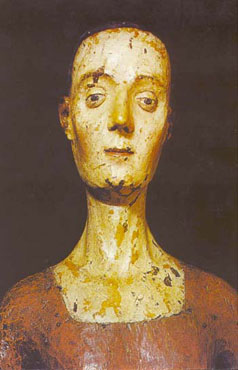 So what are we left with?
Presumably dazzled by her royal suitor, Katherine played her part successfully in her brief marriage with Henry V and the even briefer time she actually spent with him, by giving birth to a son and smiling at the crowds when she joined Henry on his royal progress in 1422. Left a widow at 21 with no power and no official position assigned to her in the rearing and education of her young son other than the title Queen Dowager and Queen Mother, Katherine remained obscure, destined to a ceremonial widowhood at her son's side to enhance the boy's claim to the Valois throne.  Nor is there any evidence that she had any interest in events in France.  Her only visit after Henry's death was for the coronation of young Henry VI – he was ten years old – as King of France.
The knowledge we have of Katherine in the late 1420s and 1430s is of an entirely personal nature.
– Lacking the political wisdom that might have shown her the foolishness of her actions, she became infatuated with Edmund Beaufort, sufficiently that marriage was mooted – with the obvious repercussions.
– Prevented from this dangerous step, Katherine fell in love with Owen Tudor, an astonishing liaison between a Dowager Queen and a disenfranchised Welshman who was a servant in her own household.  She loved him enough to marry him
So this is Katherine's story, as told in The Forbidden Queen.  A coming of age novel of a young girl who obeyed the demands of her family, suffered increasing isolation, but ultimately grew up.  Not politics, not foreign policy, not struggles for power, but the story of a young woman caught in the grip of dynastic aggrandisement
It is a very personal story.  A love story.  And ultimately a tragic one.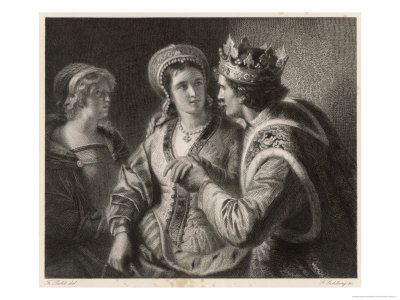 I will leave it with this more modern romantic image of Henry wooing Katherine.  A delightful image – even though I would question its authenticity.  I would like to think that this royal marraige brought her some happiness, if only that of a much loved son.