… and the importance of a good bed.
In the year of our Lord 1385, and of the reign of my dear son Richard, King of England and France; at my Castle of Walyngford, in the Diocese of Salisbury, the 7th of August, I Joan Princess of Wales, Duchess of Cornwall, Countess of Chester, and Lady Wake.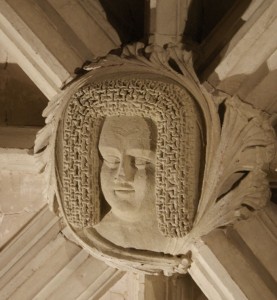 This is Joan looking down from a ceiling boss in the Black Prince's Chantry in Canterbury Cathedral, showing her hair encased in a marvelous net.
How valuable a will can be in giving insight into the life of the will-maker and the customs of the society in which they lived.  Thus the importance of this will, made by one of the most important women at the Plantagenet court of King Edward III and King Richard II. 
Joan's will begins by giving us an intriguing insight into her relationship with two 'legal' husbands, Sir Thomas Holland, Earl of Kent, and Edward, Prince of Wales, who had both predeceased her.
My body to be buried in my chapel at Stanford, near the monument of our late lord and husband, the Earl of Kent.
Food for thought here, that she should choose to be buried in the relatively unglamorous surroundings at Stamford in Lincolnshire, rather than in the majesty of Canterbury Cathedral.  Was it that she wished to be buried next to Thomas Holland her first husband rather than the Prince of Wales?  Perhaps there was more scope for the impressive chapel she planned to have built for her tomb at Stamford.  Sadly there are no remains for us to see, since all but the gateway to the Church of the Greyfriars in Stamford has been demolished in the years since the Reformation.  All the tombs have vanished also.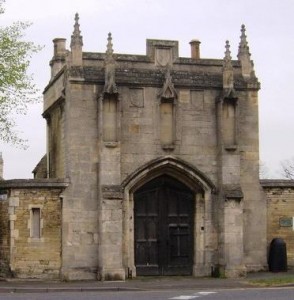 There is no evidence as to why Joan chose to be buried in Stamford, but those with a romantic turn of mind might like to think that her youthful heart still remained with Thomas whom she had married, through her own choice, when she was twelve years old.  Here is the gatehouse, imposing enough but the only remnant.
And then there is the importance of a bed. Wealthy families owned a number of travelling beds – portable beds with hangings – called trussing beds, as well as those that remained in their main residences.  Such a bed was a valuable commodity and its gift in a will was a symbol of affection and recognition of importance towards the one who received it.
To my dear son the King, my new bed of red velvet, embroidered with ostrich feathers of silver, and heads of leopards of gold with boughs and leaves issuing out of their mouths. To my dear son Thomas Earl of Kent, my bed of red camak [sic.] paled with red and rays of gold. To my dear son John Holland, a bed of red camak.
Of all her possessions, it was her beds that Joan needed to will to her three sons, King Richard and her two Holland sons.  And how impressive they must have been.   Richard of course was to inherit the bed embroidered with his father's heraldic ostrich feathers, adopted as the Prince's heraldic device after the battle of Crecy.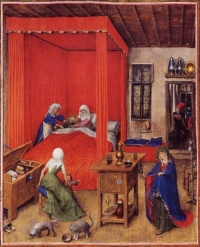 And how important that the will should be efficiently and legally implemented.  Joan ensured that it would be done to her desires by appointing an array of clerics, friends and servants.  As it was duly witnessed.
And I appoint the Venerable Father in Christ, my dear friend and cousin, Robert Bishop of London; William Bishop of Winchester; John Lord Cobham; William de Beauchamp, William de Nevill, Simon de Burlee, Lewis Clifford, Richard Atterbury, John Clanvow, Richard Stury, John Worthe, steward of my lands, and John le Vache, Knights; together with my dear chaplains, William de Fulburn and John de Yernemouth; and my loving esquires, William de Harpele, and William Norton, my executors. Witnessed by the Prior of Walyngforde and John James.
Quite an array of important clerics and laity to ensure that Joan's wishes were carried out to the letter.  This in itself is an interesting comment on what we know about Joan in life where her legal insecurity was strongly evident.  Fearful of the effect on Richard's legitimacy, Joan kept all the legal documents surrounding her marriages in a coffer made for that purpose, passing the whole to Richard on her death.  Legal security meant everything to her.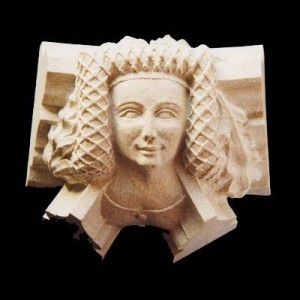 This is another, more flattering roof boss in the north aisle of Canterbury Cathedral, thought to be of Joan,
Joan must have anticipated her death, whatever its cause.  She died on either the 8th or 14th August 1385, very shortly after her will was made, probably at Wallingford Castle.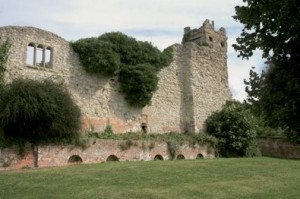 We are fortunate to have her will as a final comment on a most dramatic and intriguing life.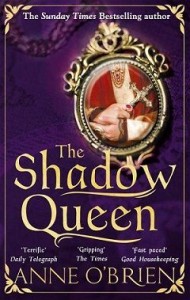 The Shadow Queen is on sale in Waterstones, WHS and all good book shops, as well as on Amazon.  It is also available on Kindle.
https://www.amazon.co.uk/Shadow-Queen-Anne-OBrien/dp/1848455224