Queen of the North released in paperback on 18th April 2019
The two main protagonists in my novel Queen of the North are
Sir Henry Percy and Elizabeth Mortimer.
For those readers who have a keen enjoyment in following the adventures of the Tudors, is there any connection between this famous pair and the Tudors?
Hotspur, Sir Henry Percy, heir to the 1st Earl of Northumberland, needs little introduction, such a dynamic, mercurial, glamorous figure in our history.  His father was another Sir Henry Percy who was created Earl of  Northumberland on the occasion of the coronation of King Richard II.  His mother was Margaret Neville, daughter of  Ralph de Neville, 2nd Baron Neville of Raby
Elizabeth was very much a Plantagenet.  Great-grand-daughter of King Edward III, Elizabeth inherited her royal Plantagenet blood through her mother Philippa, daughter of Lionel Duke of Clarence, King Edward III's second son.  Philippa married Edmund Mortimer, third Earl of March.  This placed Elizabeth in the centre of the struggle for power for the throne, by the Mortimer claimants, after the death of King Richard II and the usurpation of King Henry IV.  All royal cousins, this makes Queen of the North a compelling family saga of power and treason, of betrayal and death.  The Mortimer Earls of March had a strong claim to the throne even if it was through the female line of Philippa of Clarence.
Nor was Hotspur without his own royal connections.  His grandmother was Mary, daughter of Henry, Earl of Lancaster, who was grandson of King Henry III and first cousin to King Edward II.
Sadly we have no contemporary images of either Hotspur or Elizabeth.  Nor are there any written descriptions.  It is a matter for our imaginations.  This is Joe Armstrong and Michelle Dockery playing the roles in Shakespeare's King Henry IV Part One in the BBC Hollow Crown Series.  I think they look just right!
What connection, then, does this dynamic couple have with the Tudors?
At first glance, none, since they lived their dramatic lives in the first turbulent decade of the fifteenth century.
In fact they have a critical connection.  Here it is:
Elizabeth Percy, only daughter of Elizabeth Mortimer and Hotspur, married as her first husband John Clifford, Baron Clifford.
One of their daughters, Lady Mary Clifford, married Sir Philip Wentworth of Nettlestead in Suffolk.
Mary and Philip's son, Sir Henry Wentworth, wed Anne Say, the daughter of Sir John Say and Elizabeth Cheyney, by whom they had two sons, Richard and Edward, and four daughters.
Here comes the vital connection.  One of these daughters, Margery Wentworth, married Sir John Seymour ofWulfhall, Savernake Forest in Wiltshire.  They had ten children together.
One of these children was Jane Seymour, who famously became the third wife and thus queen consort of King Henry VIII.  She was mother of King Edward VI.  And of course we do have a contemporary portait of Jane Seymour by Hans Holbein the Younger.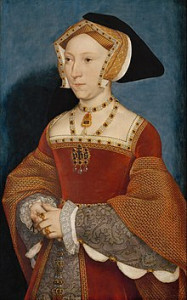 Thus the far distant Plantagenet blood of Elizabeth Mortimer and Sir Henry Percy ran through the veins of Jane Seymour and her young son.
Elizabeth Mortimer and Hotspur provide a splendid story for us in their own right, offering a marvellous window into the ambitions of medieval  power-hungry magnates in the years before the Tudors came upon the scene.  No less fascinating for all of that.
All to be enjoyed in Queen of the North.