Queen of the North 
Sumptuous and Evocative Historical Fiction
from the
Sunday Times Bestselling Author
Queen of the North tells the passionate but ultimately tragic tale of Elizabeth Mortimer, daughter of the Earl of March, and Sir Henry Percy, known to history as Hotspur.
This is the main entrance to the keep at Wigmore Castle, the most important  Mortimer base in the Welsh Marches before they moved to Ludlow.  The archway has almost been filled in with earth over the years, but it is a most dramatic site to visit.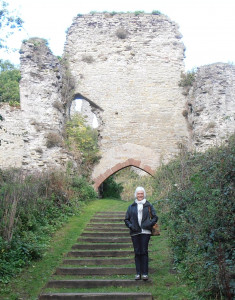 Why would I choose to write about this dynamic couple?
Some of my favourite scenes in Shakespeare are those in Henry IV Part One between the magnificent Hotspur and Lady Kate (Elizabeth Mortimer in real life).  It is a relationship full of politics and power, one of conflict of personality and also of flirtation, of love and affection.  As a couple they are very appealing and dominate the scenes in which they appear.
Lady Kate:
Answer me
Directly unto this question that I ask:
In faith, I'll break thy little finger, Harry,
An if thou wilt not tell me all things true.
Hotspur:
Away,
Away, you trifler!  Love!  I love thee not,
I care not for thee, Kate: this is no world
To play with mammets and to tilt with lips:
We must have bloody noses and crack'd crowns …
Lady Kate:
Do  you not love me? Do you not, indeed?
Well do not then; for since you love me not,
I will not love myself.  Do you not love me?
Nay, tell me if you speak in jest or no.
Hotspur:
Come, wilt thou see me ride?
And when I am o' horseback, I will swear
I love thee infinitely.
And then, with Elizabeth as a widow:  here is the tragic end of the romance and all the emotion:
Lady Percy:
He was the mark and glass, copy and book,
That fashion'd others.  And him, O wondrous him!
O miracle of men!
So who were they, in real life?
Hotspur, Sir Henry Percy and heir to the Earl of Northumberland, needs little introduction, such a dynamic, mercurial, glamorous figure in our history.  The perfect hero.  Brave and courageous, winning glory on the battlefield, he was also flawed, bringing his own downfall.  He was more than tempting to write about. This is the flamboyant statue of Hotspur at Alnwick Castle, the Percy base in the north.  It is easy to imagine him just like this in real life.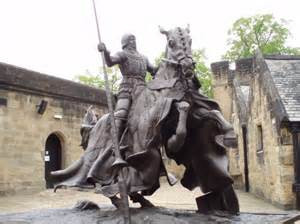 But what about Lady Kate?  If I continued to follow my passion to write about medieval women, looking at history from a woman's viewpoint, who was she?  Had she anything of importance to add to the medieval scene?  Would she be a suitable heroine to give depth to a novel?
It was a surprise and a delight for me to discover exactly who she was.
Historically Lady Kate was not Kate at all, but was Elizabeth Mortimer, one of the powerful Mortimer family that ruled over the Welsh Marches where I now live.  I am surrounded by Mortimer castles, Mortimer heraldic symbols and Mortimer tombs, so immediately Elizabeth was of interest to me.  This of course is Ludlow Castle, one of the main Mortimer bases in the Welsh Marches, which Elizabeth would have known well.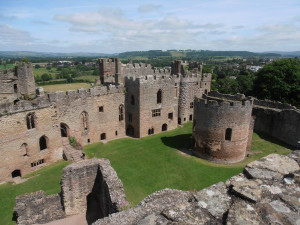 Great-grand-daughter of King Edward III, Elizabeth inherited royal Plantagenet blood through her mother Philippa, daughter of Lionel Duke of Clarence, King Edward III's second son.  This placed Elizabeth in the centre of the struggle for power from the Mortimer claimants to the throne after the death of Richard II and the usurpation of King Henry IV.  All royal cousins, this would be another compelling family saga of power and treason, of betrayal and death.  The Mortimer Earls of March had a strong claim to the throne even if it was through the female line.
Even better, Elizabeth's story with that of Hotspur would also draw in a whole panoply of superb historical characters.  Henry Percy, Earl of Northumberland, cunning, ambitious and manipulating, determined to keep Percy hands on the reins of power in the north of England.  Owain Glyn Dwr, the great Welsh Prince, driven to take up arms in his struggle for Welsh hegemony.  King Henry IV, the Lancaster king, fighting hard to stabilize a dangerously uneasy country after the death of Richard II.  And then Thomas de Camoys, a most sympathetic character who played a  large part in The Queens Choice.  What a marvellous set of characters to play with.
This is the Mortimer heraldry in one of the windows in the Church of St Laurence in Ludlow, a church with very strong Mortimer connections.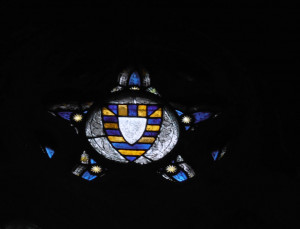 Why then was I compelled to write about Elizabeth?  Because of her Mortimer blood, she was a woman who deliberately took on the role of traitor to the crown in support of her nephew Edmund, Earl of March.  She would know at first hand the resulting struggle between family loyalty and a desire to pursue what she saw as the rightful claim to the crown of England, despite all the pain it would bring her.  She would also learn the constraints on her freedom,  common to all medieval women.  Even more important, she would be forced to accept her own role in her husband's downfall.  Wide ranging through court politics and battlefield honours, all overlaid with a clash of will between two fiery protagonists, it is a story of loss and acceptance, of love and tragedy, of passion and heartbreak.
All is here to be enjoyed in Queen of the North.  Available in paperback from 18th April, 2019.  I hope that you are tempted to buy it!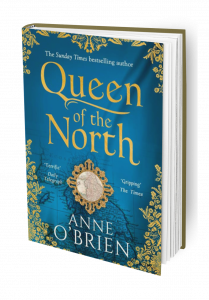 https://www.amazon.co.uk/Queen-North-sumptuous-historical-bestselling/dp/0008225435/ref=tmm_pap_swatch_0?_encoding=UTF8&qid=&sr=