A Solemn Christmas 
Cecily Neville, Dowager Duchess of York, King's Mother, made the decision in December 1461 not to celebrate Christmas and the New Year at Greenwich with her son Edward, the newly crowned King Edward IV of England.  Instead she celebrated at the palace of Eltham.  It was one year since she was widowed in the Battle of Wakefield where she also lost her son Edmund, Earl of Rutland and her brother Richard Neville, Earl of Salisbury.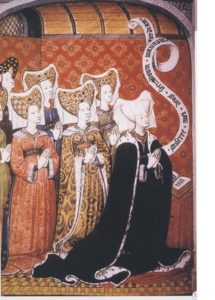 Joan, Countess of Westmoreland with her daughters.  Cecily is kneeling first behind her.  She was the youngest but through her marriage to Richard of York the most important.
Christine de Pisan advised that  'a wise princess who is widowed' should stay in seclusion for a time, with only a little daylight, and dressed sombrely 'according to decent custom'.  Always politically aware, this was not possible for Cecily, however much she might have wished a time of quiet mourning after the tragic death of Richard, Duke of York.  Whereas once she might have seen herself as 'Queen in Waiting', her new role was that of supporting the rule of her son through intercession and good advice as King's Mother.  Cecily knew that it would be important for her to see and be seen at this festive time of year when her son's reign was still so new.  At this crucial time, to shut herself away could not be the choice of  'a wise princess'.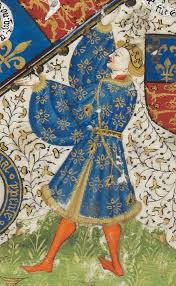 Richard Duke of York in the frontispiece of the Talbot Shrewsbury Book, 1445.
We know that Cecily must have marked the occasion at Eltham with the usual high degree of medieval feasting and merriment since it was placed on record by the London Chronicler of the day.  Although no details remain, it is presumed that a feast was held, all seemly and dignified.  Strict protocol was laid down in the Ryalle Book about the seating and serving of guests appropriate to Cecily's household on special occasions.  Cecily would not share dishes with anyone except her younger sons.  Any bishop present would be seated at the upper end of Cecily's table whereas the nobility took the seats at the lower end.  Cecily's daughter Margaret – later to become Duchess of Burgundy – would be seated above all the Duchesses of England, in spite of her lack of title at this time.
We presume that as well as the feasting, the usual games and festivities, with music and dancing, were held to mark the birth of the Christ Child.
But midway through this festive time, Cecily pursued a distinct change in atmosphere.  The 30th day of December was the first anniversary of the death of Richard, Duke of York, at the Battle of Wakefield where he and their son Rutland were both decapitated, their heads placed with that of Salisbury, Cecily's brother, on Micklegate Bar in York.  A paper crown adorned York's brow in a final act of malicious humiliation.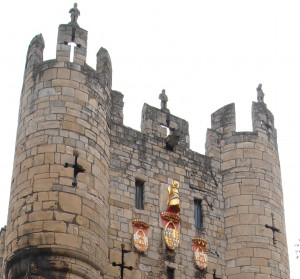 Micklegate Bar, York, where so many heads were displayed over the years.
To mark this sombre occasion Cecily held the 'year's mind', the solemn Requiem Mass on the anniversary of her husband's death.  Such a service would by custom be held in the church where the body of Richard was buried, but on this occasion, this was not so.  Richard's body, recovered from York, had been hurriedly buried in the Priory of St John the Evangelist at Pontefract, where it still lay with the earthly remains of Rutland and Salisbury.
Instead, Cecily held the 'year's mind' in great splendour in Old St Paul's Cathedral.  A hearse covered with a pall was set up before the High Altar with banks of candles burning around it.  The funeral rites were then repeated as if in the corpse's presence.  Thus it was as if the dead were re-called, being brought before the living once more, for prayer and a final re-commital to the grave.
Wenceslas Hollar's 17th Century engraving of the choir in Old St Paul's which was destroyed in the great Fire of London of 1666. 
It must have been a magnificent memorial, although the names of those attending were not recorded.  We know that Cecily spent one hundred and fifty pounds on the candles to illuminate the pall-covered hearse, a vast sum in 1461 and indicative of the impression she wished to make.
What a bitter experience this was for the Dowager Duchess as she looked back over her year of mourning, in spite of the victory and coronation for her son Edward.  Did she find some consolation in the severe words of the Requiem, in the sacred ceremony with its weight of death and judgement and all its candles.  A heart-wrenching occasion before she returned to Eltham to the festivity of New Year's Gift Giving.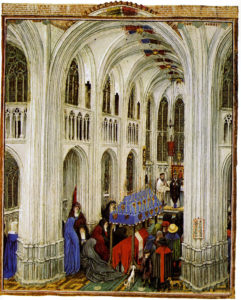 Formal Celebration of a Requiem Mass
What we do know is that the Duchess was not satisfied with the burial of  the Duke of York and her son in Pontefract.  It was her intention to bring their bodies home to Fotheringhay, to be buried there in this most important of Yorkist bases.  This was not achieved until sixteen years later.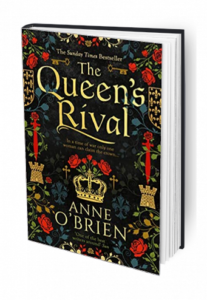 I am giving away 2 copies of The Queen's Rival
in a spirit of Christmas giving.
For a chance to win, leave a comment at the end of this Christmassy Post.