Alice Perrers, mistress of Edward III, gained notoriety for her collection of jewellery. Did she deserve it?
Diamonds – and any other jewels of great value – are a Girl's Best Friend, particularly if her name is Alice Perrers …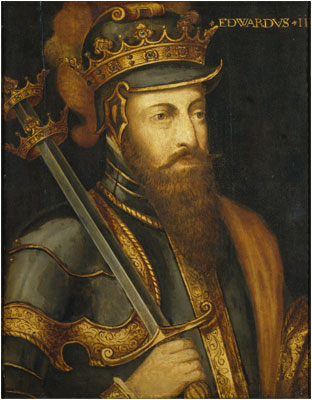 A brief thought here about royal mistresses and precious stones, because the publication date for The King's Concubine in the UK and USA is creeping closer …
What does a woman treasure more than a gift of jewellery from her lover?
Jewels have always been regarded as a particularly disreputable means by which a greedy woman could entice wealth from a lover.  Royal mistresses have been rewarded over the centuries for their services to the King – whether companionship, sexual favours or even love – by gifts of jewellery.  This has not met with great favour in the public eye.  The royal mistress is invariably despised for weaving her avaricious web, encouraging the King to squander money which would have been better spent elsewhere than on a diamond necklace to grace his lover's impressive bosom.  What's more, the blame for the giving of such gifts has always been placed at the feet of the wily, self-serving mistress, never on the King who was weak enough or besotted enough – or simply loved her enough – to wish to lavish jewels on the woman who shared his bed.
Alice Perrers was not the first, nor was she the last mistress to be showered with gems.  Anne Boleyn and Katherine Howard both did well out of Henry VIII.  Even Elizabeth Carew, a minor dalliance for Henry, received diamonds and pearls.  Charles II was equally impulsive.  Louise de Kerouaille, his French mistress, needed a fleet of her own ships to carry all her treasure – much of it in the form of jewellery – back to France when Charles died.  Nor were English kings alone in succumbing to a predatory female.  The magnificent Diane de Poitiers, mistress to Herny II of France, twenty years her junior, managed to ensnare the whole of the French crown jewels.
And most notorious of all was Wallis Simpson.  Her collection of jewels bestowed on her by an infatuated Duke of Windsor is legendary.  When some of the choicest pieces – the jewelled flamingo, the encrusted cigarette case – came on the open market in 2010 they sold for over £8 million.  Her spectaular diamond panther bracelet alone reached well over £4 million.
Alice Perrers, hated and despised in her day, fits perfectly into this tradition of the mercenary, jewel-grabbing royal mistress.  As was said of her:
'There was … in England a shameless woman and wanton harlot called Ales Peres, of base kindred … being neither beautiful or fair, she knew how to cover these defects with her flattering tongue …'
And because of her flattering tongue, at the height of her powers she was worth a king's ransom of £20,000 (in fourteenth century values) in precious stones.  Alice's notoriety was a very particular one because her ill-gotten gains tarnished the memory of the much loved Queen Philippa, Edward's wife.  Four years after Philippa's death, Alice acquired for her own use Queen Philippa's personal jewels.  Philippa had left them in the safe keeping of her senior lady-in-waiting, but Alice persuaded Edward to give them to her.  Alice then wore them with great flamboyance as if she were Queen, flaunting them at Court and in procession through the streets of London as Lady of the Sun, seated in a gilded chariot, clothed in ermine and gold tissue.
Perhaps this is a description of her and her astonishing collection of jewellery:
Fairly her fingers were fretted with rings,
And in the rings red rubies, as red as a furnace,
And diamonds of dearest price, and double sapphires,
Sapphires and beryls, poison to destroy.
Her robe of scarlet dye,
Her ribbons set with gold, red gold, rare stones
Her array ravished me: such riches saw I never…
What an astonishing picture of wealth in precious stones.  This is Lady Meed as she is described in the great allegory of medieval England: The Vision of William concerning Piers the Plowman.  Did William Langland actually see Alice as Lady of the Sun, riding through the streets of London in a chariot, pre-eminent above all?  Even the King, her lover, rode behind her.  Perhaps he did see her, for Langland is thought to have based his character of Lady Meed on Alice.  I hope this is Alice in all her finery because it is the only description we have.
Should Edward have given the jewels to Alice?  To be fair they were not the crown jewels, but Philippa's own personal collection.  Nor had Phillipa willed them to her chief lady-in-waiting, merely given them to her for safe keeping.  So if Edward wished Alice to wear them, then why not?  But we know that Alice used all her persuasive powers on Edward to get them into her possession.  It is difficult not to accuse her of greed.
Edward wrote: 'Know all that we give and concede to our beloved Alice Perrers, late damsel of the chamber to our most dear consort Philippa now dead … all the jewels, goods and chattles that she, the said Queen, left in the hands of Euphemia, wife of Sir Walter Heselarton, and the said Euphemia is to deliver them to the said Alice on the receipt of this command.'  So Alice got her precious stones.
What happened to the jewels?  We do not know.  If Alice willed them to her two daughters, they disappeared into the mists of history, her daughters marrying into the professional and minor landowning class and fading into utmost respectability.  I can not imagine the two girls wearing the gems as flamboyantly as Alice did.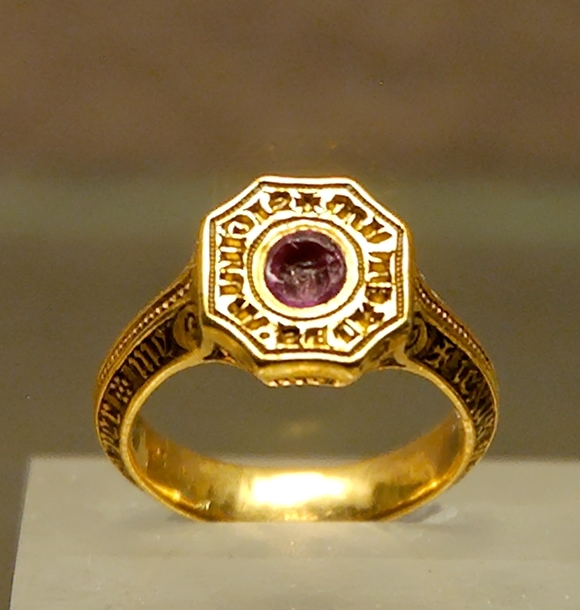 As the Book of Proverbs so eloquently asks:  'Who can find a virtuous woman?  For her price is far above rubies.'
The King's Concubine tells the story of Alice who was far from virtuous but, in Edward's eyes, she had a value far above rubies.  That, of course, did not stop Alice stripping the rings from Edward's fingers when he was dying …  But that's another story for which you must read The King's Concubine …