An arranged marriage between the youthful Edward III and Philippa of Hainault that blossomed into one of the great love affairs of medieval times.
Royal Newly-weds 14th Century style: a Brief but Very Satisfactory Wooing 
In July 1326, when the future Edward III was 14 years old, he and his mother Queen Isabella, visited the state of Hainault on a mission – to find the youthful Edward a bride.  The English Plantagenets had been sent a description of one of the Hainault daughters of which there were four:  Margaret, Philippa, Jeanne and Isabella.  Queen Isabella and the Countess of Hainault were first cousins; thus Edward and Philippa were closely related.
This charming illustration shows a very young Edward of 14 years being crowned King of England.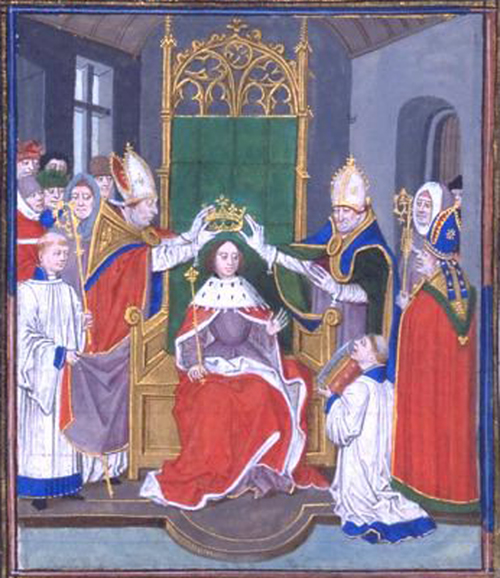 The description of the young girl was always thought to have been of Philippa – in the words of Bishop Stapledon who had visited Hainault twice and reported back.  The young girl was described in 1319 as having dark hair, deep-set brown eyes, a large forehead and a large nose but not snubbed.  Her body and limbs were well-formed, but some of her teeth were discoloured.  It does not sound to be the stuff of romance but the proposed bride was considered to be an attractive proposition for the young prince.
Recent research now suggests that the description is not Philippa, but more likely to that of Margaret the eldest daughter, chiefly because of the correlation of birth dates with those of Stapledon's visits.  In fact Margaret was not available for marriage: by the time that Edward visited Hainault, Margaret was already married to Ludwig of Bavaria, so it is possible that Edward's eye fell on Philippa as the next daughter in line.  The only information we have of Philippa's appearance is from her tomb effigy in Westminster Abbey which she had carved specifically to give a true representation of her in old age.  Here she is stout and maternal, with broad features.  She has no claim to beauty but perhaps as a young girl she had, and without doubt Edward loved her.  Here Edward and Philppa rest together in Wesminster Abbey.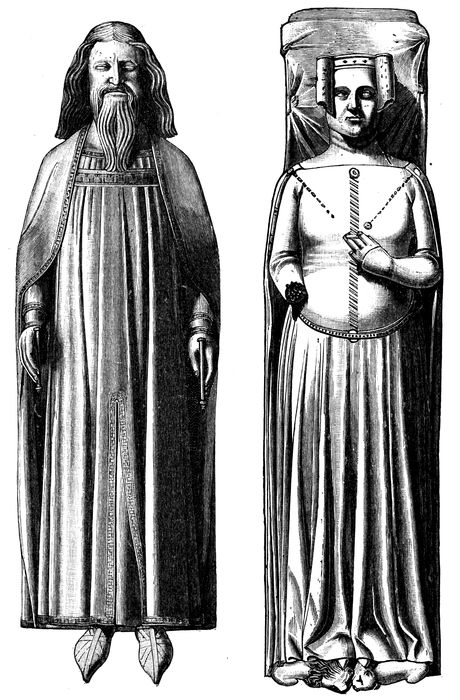 It was suggested by a later writer that the quality of Philippa's hips made her an ideal wife for Edward to carry the next heir for England.  How many other wives throughout history were chosen for their child-bearing possibilities?
The decision that Edward and Philippa would marry was made between Queen Isabella and Count William of Hainault, Philippa's father, because it was a suitable match, Isabella having an eye to some Hainault mercenaries to help her and her lover Lord Mortimer in their plotting to take power from Isabella's husband Edward II.  At this time Philippa, the second daughter, was about twelve years of age, Edward perhaps two years older, and the wedding, it was agreed, would happen at some point within the next two years.  Edward's visit lasted for 8 days, at the end of which, when Edward left, Philippa is said to have wept bitterly.
Edward was to meet Philippa again in January 1328 at the gates of York and they were married the following day in York Minster.  This began a marriage that lasted for forty years until Philippa's death in 1369.  In character, they matched each other perfectly.  They enjoyed books – Philippa particularly enjoyed romances – and hunting, celebrations  and extravagant festivities.  They also enjoyed their family, Philippa producing twelve children, Edward being a loving and generous father.  Edward was the flamboyant one: Philippa had a strong streak of common sense and loyalty to Edward, both of which he needed to put his reign on a firm footing.  Until Alice Perrers joined the royal court in somewhere about 1364, it is believed that Edward never took a mistress, something unusual for medieval kings.
Another delightful image of a youthful Philippa being crowned Queen of England.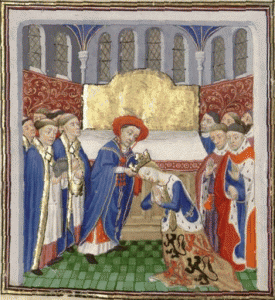 So what happened in those eight days in Valenciennes in July 1326 between Edward and Philippa that caused Philippa to weep so bitterly when her young suitor left?  We have no idea, which provides perfect territory for a writer of historical fiction.  Whatever attraction there was between the two young people, it laid the foundation for one of the most important and successful marriages in English history.  When Philippa died forty years on, Edward was devastated.  Perhaps it was this event that began his decline into the tragic dementia that dogged his latter years.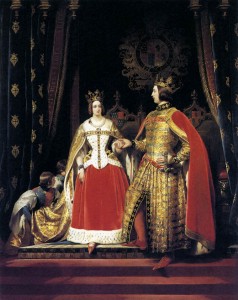 Edward and Philippa have remained in history as an ideal couple, happily married with a large family.  Here is Edwin Landseer's painting of Queen Victoria and Prince Albert, dressed dramatically as Edward III and Queen Philippa at a royal ball in 1842.