And A June Giveaway!  
To Commemorate the Wedding of Elizabeth of Lancaster, daughter of John of Gaunt, to John Holland, Earl of Huntigdon on 24th June 1386
As a close member of the royal family, there was no reason why Elizabeth of Lancaster, after the somewhat scandalous beginnings of her marriage to John Holland, should not have lived a life wrapped in royal approval and luxury centred on the glamorous court of King Richard II.  Her marriage to Holland, from all appearances, was a love match.  Holland was smiled on by King Richard who created him Earl of Huntingdon, then Duke of Exeter, and gave him land and authority.  Holland and Elizabeth were blessed with six children, five of whom lived to adulthood.
We have no contemporary portrait or illustration of Elizabeth, but here she is from the effigy on her tomb in the hamlet of Burford, Shropshire, with pale hair and long, fine features.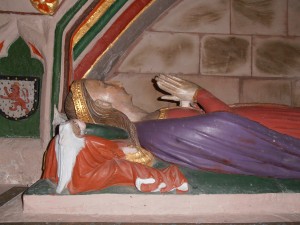 Blissful harmony was not to be the order of the day for the Duke and Duchess of Exeter, however promising the future seemed.  Because of her intricate royal connections, Elizabeth found herself in a hazardous position:
– Daughter to John of Gaunt, Duke of Lancaster.
– Sister to Henry Bolingbroke, the Lancaster heir.
– Cousin to King Richard II.
– Wife to John Holland, half brother to the King, as they shared the same mother, Joan of Kent.
When England was torn apart by uprising in 1399, family loyalties destroyed any chance Elizabeth might have had of happiness with Holland.  It was without doubt a family at war.  Furthermore the clouds had been building for some time.
It must have been difficult enough to preserve family goodwill when King Richard banished brother Henry from England for six years on a dubious charge of treason.  And then on the death of John of Gaunt, Richard extended the banishment for life at the same time as he snatched the Lancaster inheritance for himself.  Where were Elizabeth's loyalties here?  I doubt that they were with Richard.
Here is Richard, magnificent in red and gold, from Froissart's Chronicles, in the days before the challenge to his power.  Froissart is shown presenting a book to the King.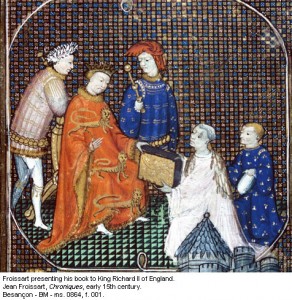 Even worse for Elizabeth's sense of loyalties was when brother Henry returned from banishment with rebellion in mind and usurped the throne from Richard, imprisoning him in Pontefract Castle.
Here is Henry, crowned King of England while Richard was still alive but incarcerated.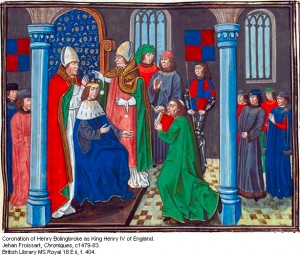 Elizabeth might not have been averse to her brother becoming King, but where would John Holland stand in all of this?  Would he support his half-brother or his brother in law?  In past years John Holland had been in receipt of grants from John of Gaunt for his military support in the ill-fated expedition to St Malo, so there were undoubtedly a strong connection between Holland and the Lancasters.  But in the troubled months of the uprising, when Richard returned from Ireland to find Henry Bolingbroke on English soil with an army at his back, Elizabeth's husband acted as mediator with Henry on Richard's behalf.  With no success, and Richard being dispatched to Pontefract, would John continue to oppose Henry, at the cost of being in opposition to the new King of England?
Here is John, as Duke of Exeter, riding between Richard and Henry with his brother, magnificent in a blue patterned houppelande and hat.  Another little gem from Froissart.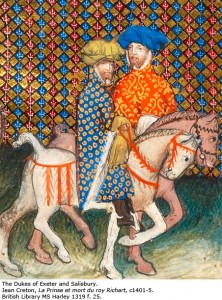 With Henry holding the reins of power, all was smoothed over, at least on the surface.  John Holland gave his allegiance to Henry, taking his part in the celebrations at the coronation of the new king in October 1399.  Certainly Elizabeth must have breathed a heartfelt sigh of relief even though she must have pondered on the ultimate fate for her cousin Richard.
But then in December of 1399.  All change, and Elizabeth's world must have shattered.  On the seventeenth of the month a group of men secretly met in the chamber of the abbot's lodging at Westminster Abbey.  Probably the magnificent Jerusalem Chamber as shown below.  The plan was to assassinate the new King Henry, the Archbishop of Canterbury, and all four of Henry's sons on the feast of the Epiphany – 6th January 1400 – when Henry planned  a great celebratory tournament at Windsor.  Richard would be released and restored to the throne.  Richard Maudeleyn, a young squire with some superficial resemblance, would be dressed in armour and would impersonate royal Richard and win over the armed support of the people of London until Richard himself could be restored to their midst.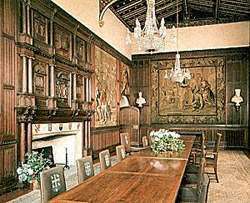 Which ways would John Holland jump here?  Henry or Richard?
Holland, demoted from being Duke of Exeter to Earl of Huntingdon by Henry, joined the plotters in the Epiphany Rising, sometimes named the  Rising of the Earls.  He was one of the group of plotters who met together at Westminster to plan Henry's assassination.
What would Elizabeth do?  Support Brother or Husband?  A terrible choice for her to make.
Read The King's Sister.
What was the outcome of the Rising of the Earls for Elizabeth and her marriage to John Holland?
Read The King's Sister.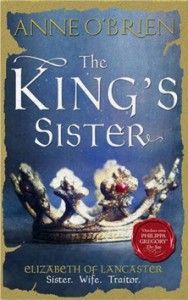 Live the emotion with Elizabeth of Lancaster, through rebellion and vicious power struggles, through betrayal and death in The King's Sister
"Anne O'Brien evokes the spirit of the age in full colour with all the detail and drama needed to fully engage the reader. Her characters are well developed and appealingly real, their choices are not clear-cut and the consequences are devastating adding up to an exciting and intriguing story of love and historical politics." – http://www.welovethisbook.com/reviews/kings-sister
Leave a comment below to have a chance of winning a signed copy of
The King's Sister.